The United States Equestrian Federation (USEF) needs to protect its children and junior riders by prohibiting rubber band and hooked safety stirrups from being used at recognized competitions. There is a long history of riders getting caught on the hook part of the safety stirrups when dismounting or falling. Riders have had the hook catch their belt or clothes on the way down. Some riders have had the hook rip through their clothing and cause mutilating injuries to the abdomen, genitals and groin. These injuries have been known to occur in the riding community for several years and, yet, they are used by many young riders at horse shows every day. This puts child riders at continuing risk of horrible injuries. The USEF should address the risk of injury these stirrups create and protect its members by prohibiting their use at shows.
A rule banning hook and rubber safety stirrups should be passed immediately by way of an Emergency Rule Making or Presidential Modification. There is no excuse for another child being injured by these hook and rubber stirrups, when it can be prevented.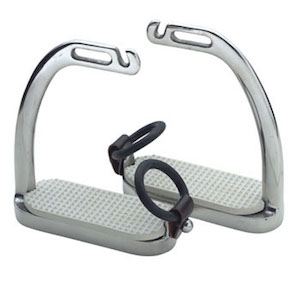 Safety Stirrups are designed to prevent feet from being caught in the stirrup after a fall and causing a rider to be injured while being dragged. But the rubber band and hook safety stirrup design is inherently dangerous. I have seen two cases just this year when riders, one a boy and one a girl, suffered horrible laceration injuries from a safety stirrup hook while dismounting. Both required major surgery and will have permanent injury. The danger from this stirrup when dismounting is obvious, the hook catches you on the way down. If you are lucky, the hook at the top of the stirrup will only catch hold of your pants, belt, or belt loop and just rip them when dismounting. If you are not so lucky, the hook will tear through the clothing and rip underlying skin and body parts.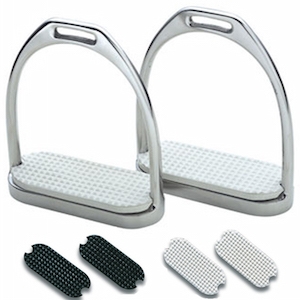 Although designed to prevent dragging after a fall, safety stirrups with hooks and rubber bands are not safe for general use. Riders do not fall off every time they ride, but do dismount every time they ride. Dismounting over a safety stirrup creates an unacceptable risk of injury each time. Using proper riding boots with heels placed in full stirrups without the locking the stirrup leathers prevents dragging after a fall. If one desires extra protection from being dragged, there are other safety stirrup designs without hooks that are "drag proof" and do not create the risk of serious injury that the hook and rubber band type does.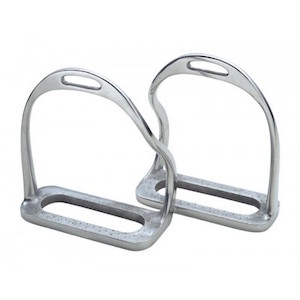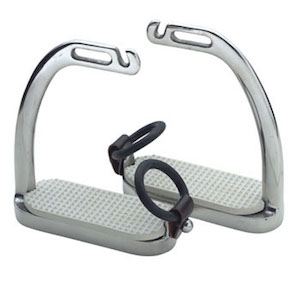 The USEF needs to take notice of these potentially dangerous stirrups and protect its members. Their use has become pervasive, despite their demonstrated ability to cause injuries. If you haven't had problems, don't wait until you do.
By Armand Leone, Jr., MD, JD, MBA